As part of Heritage Week 2014, Limerick Museum and Archives (LM&A) will be delivering an afternoon of Limerick Lace from 2pm on Friday 29 August in the Limerick Museum, City Hall.
This afternoon will consist of a talk by Dr. Matthew Potter on the history of Limerick Lace, told through the items in the Museum. This talk will take place at 2pm and will repeat at 3pm. These talks are free for all and no booking is required.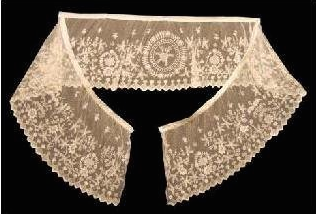 There is also the opportunity to take part in a basic Limerick Lace making class. All items required will be provided. This class will take place at 2pm sharp and Booking is essential as places are extremely limited.
If you would like to book a place in the Limerick Lace making class please contact sharon.slater@limerick.ie
For more details on the Limerick Lace project you can email archives@limerick.ie or follow Limerick Museum and Archives (LM&A) on facebook and twitter.